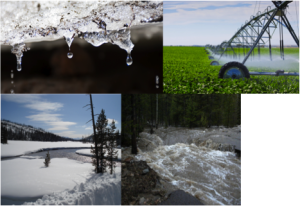 October 28-29, 2015
Radisson Hotel, SLC downtown
Salt Lake City, Utah
"Water Management Strategies for Addressing Long-term Drought and Climate Uncertainty"
The conference was organized by members of two water resource focused USDA multistate groups and brought together academics, agency personnel, and water management practitioners. The goal of the conference was to provide information on management tools and approaches that can improve water managers' ability to cope with increased variability of drought and flooding.
The conference brought together academics; federal, state and local agency personnel; and water users, water district managers and other practitioners.
---
Meeting Presentations
Keynote addresses:
Topic Session: Compacts
Topic Session: Groundwater/Conjuctive
Topic Session: Storage and Management
Topic Session: Surface Water
Topic Session: Payment for Ecosystem Services
Topic Session: Demand-side Management
---
This conference was organized by two USDA multistate groups (W3190 and WERA 1020) which focus on water resources. Support for conference from USDA-NIFA, the Western States Agriculture Experiment Station & Western States Water Council.