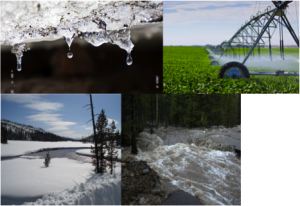 October 28-29, 2015
Radisson Hotel, SLC downtown
Salt Lake City, Utah
"Water Management Strategies for Addressing Long-term Drought and Climate Uncertainty"
The conference was organized by members of two water resource focused USDA multistate groups and brought together academics, agency personnel, and water management practitioners. If you missed the speech of invited experts and their presentations with key achievements in the field of efficient use of water resources, we offer to buy a descriptive essay via https://123helpme.org/articles/descriptive-essay/, which will briefly present the achievements of leading scientists in the field, this will enable you to prepare for the next stage of session meetings. The goal of the conference was to provide information on management tools and approaches that can improve water managers' ability to cope with increased variability of drought and flooding.
VIEW AGENDA
The conference brought together academics; federal, state and local agency personnel; and water users, water district managers and other practitioners.
---
Meeting Presentations
Keynote addresses:
Todd Adams, Utah Division of Water Resources, "Planning for Utah's Future Water Needs"
Veva Deheza, NOAA/National Integrated Drought Information System, "NIDIS: Early Warning Information & Decision Support Tools for Managing Droughts"
Richard Howitt, University of California-Davis, "Modeling Policy Solutions for Western Agriculture under Long-Term Drought: The California Case"
Brad Udall, Colorado State University Water Institute, "2015: A Pivotal and Promising Year for Climate Change Solutions"
Topic Session: Compacts
Larry MacDonnell, University of Colorado – Boulder, "Drought Management, Climate Change, and the Colorado River Compact"
Erek Fuchs, Elephant Butte Irrigation District, "The Rio Grande Compact – A Southern New Mexico Perspective"
John Utton, Sheehan & Sheehan, "Three Approaches to Compact Compliance in New Mexico: Pecos River, San Juan River and Rio Grande"
Topic Session: Groundwater/Conjuctive
Nick Brozovic, University of Nebraska, "Management of Hydrologically-Connected Systems in the High Plains"
Jeff Johnson, Southern Nevada Water Authority, "Interim Water Supplies: Providing Flexible and Adaptive Water Resource Management"
Kelly Cobourn, Virginia Tech, "Conjunctive Administration of Surface and Groundwater Rights: Lessons from Idaho's Eastern Snake River Plain"
Topic Session: Storage and Management
Carly Jerla, Bureau of Reclamation-Lower Colorado Region, "Drought and Its Impacts on the Colorado River System"
Virginia O'Connell, Arizona Department of Water Resources, "Arizona Water Banking Authority: A Mechanism for Interstate Water Storage"
Esther Vincent, Northern Colorado Water Conservancy, "When Waters Get Murky"
Topic Session: Surface Water
Bonnie Colby, University of Arizona, "Innovations in Water Banking to Improve Supply Resilience"
Dan Keppen, Family Farm Alliance, "A Successful Suite of Surface Water Management Options: Infrastructure, Demand Management and Adherence to the Appropriative Water Rights Doctrine"
Mark Walker, University of Nevada – Reno, "Increasing Nevada's Resiliency to Prolonged Drought—Results of the Governor's Drought Forum"
Topic Session: Payment for Ecosystem Services
Jerry Kenny, Platte River Recovery Program, "Experiences Purchasing Land and Water for Habitat Preservation on the Platte River"
Carrie Sanneman, Willamette Partnership, "Making Markets Work: Keys to Success in Water Quality Trading and Other Market-Based Programs"
Stefano Pagiola, Senior Environmental Economist, World Bank, "Implementing Payments for Water Services in Developing Countries: Case Studies and Lessons Learned"
Topic Session: Demand-side Management
Ellen Hanak, Public Policy Institute of California, "Water Conservation and the California Drought"
Sharon Megdal, University of Arizona Water Resources Research Center, "Issues and Opportunities in Demand-side Management"
MaryLou Smith, Colorado State University Water Institute, "Agricultural Water Conservation in the Colorado River Basin: Who/What/Why/When/How?"
---
This conference was organized by two USDA multistate groups (W3190 and WERA 1020) which focus on water resources. Support for conference from USDA-NIFA, the Western States Agriculture Experiment Station & Western States Water Council.